Angela's CAR8 Journal
Journal: Main - Day 1 - Day 2 - Day 3 - Day 4 - Day 5 - Day 6 - Day 7

[route sheet]


I was up before the sun on Day One. At 4:30am, I was nervous and weak in the knees at what I was undertaking. My stomach swirled as we arrived at Fort Mason and dropped off our gear bags. Seeing all the elaborate helmet decorations made me wish I had taken the time to dress up. Helmets were topped with feather headdresses and flowers and even the Golden Gate Bridge. One

team of riders each had a fairy tale scene, complete with a carpet of moss, castles

and figures of the Big Bad Wolf or Dorothy or even Shrek. Another team had a pig motif, with pink vests and pink helmet covers with pig ears. I was not nearly so elaborate, though I had Harold, my tiny sock monkey, hanging on the back of my helmet,

and my talking Buttercup doll riding on my handlebars.

At Opening Ceremonies, CAR8 head organizer Jeff Shute

spoke as HIV+ riders walked a riderless bike down the center aisle. The bike symbolized all those who had been lost to AIDS, those who could not ride for themselves. We cried and embraced fellow riders and prepared ourselves for what lay ahead. Then, suddenly, it was time to go.

With 2,500 riders, heading out was a slow process. The HIV Positive Pedalers (called Pos Peds) led the pack. The rest of us riders were released in groups. It was 8am by the time I rolled through the starting gates, amid the crowd of cheering friends and family. There were so many people along the road waving signs and wishing us well. It was the perfect way to start out. Even the weather was perfect - sunny but not too warm.
I had never shared the road with that many cyclists, and it was difficult moving so slowly when my legs were full of nervous energy. I lost Elayna, my tentmate, almost immediately in the throng of riders. We rode through the Presidio, then Golden Gate Park. It was comforting to start out along routes that I had trained on. By the time I reached the first Pit Stop in South San Francisco, the lines were outrageous. I decided to skip it, even though I was hungry. It was already late in the morning and I didn't want to waste time stopping. My two goals for the ride were ride every hill and to finish every day without getting picked up by the SAG (Support and Gear) wagon. The course closed at 7pm every day, and any riders still out would be sagged. I decided to keep on pedaling.

The route went along El Camino Real, which meant hundreds of cyclists at a time backed up behind red lights. But the riders were in good spirits, chatting and joking. In Burlingame, St. Paul's Episcopal Church set up an Unofficial Pit Stop with water and fresh fruit. My sister Lilly met me there and gave me a red rose, which I pinned to my cambelback. Seeing her there made me feel supported and loved. She had so much fun cheering on other riders that she stayed even after I left.

We continued on El Camino Real until Hillsborough, where we headed to Crystal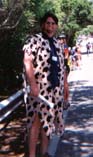 Springs Reservoir for Pit 2, the Prehistoric Pit. The crew wore caveman outfits and even started us all singing "The Flintstones." (Folks loved that, especially the last line - "We'll have a gay old time.") Once again I was comforted by the familiar terrain. My parents live just a few miles from where we stopped, and I felt at home.
Already 30 miles down, and the first significant climb of the ride was just ahead: Highway 92, with a three-mile, 600-foot climb. Many had called it the worst of the ride, and it intimidated me. I had climbed as far as Skyline Blvd. on a training ride, but wasn't sure how much steeper it got after that. As it turned out, it was all downhill after Skyline. I had already done the entire climb without realizing it. I had just climbed one of the worst hills of the ride and it was a piece of cake. I wasn't even breathing hard. At that point, I knew the rest of the ride would be fine. Cruising down the steep downhill, I felt completely free. I sailed into Half Moon Bay and turned onto Highway 1 feeling elated.

The lunch stop was at the bluff above San Gregorio Beach, where as a child I had often

gone for family trips to the beach. There was no line for lunch, and I sat on the grass with a couple from L.A. The food was a little boring, but nowhere near as bad as I'd been warned. As I got up to leave, I saw my friends Jacquie and Jennifer in the lunch line, which now extended the entire length of the pit stop. I was still nervous about finishing on time, so I continued riding alone. I actually rode alone all day, and really enjoyed it. I liked going my own pace and meeting new people, but I hoped to hook up with my friends later in the week.
Along the coast there was a great tailwind, and the sunny skies made for a perfect ride. I was really enjoying the

views of the coast and Pigeon Point Lighthouse, and felt strong on the rolling hills. Pit 4 in Davenport was a riot. All the pits have themes, but the Pit 4 crew always topped the rest. Today the fellas were

dolled up as cheerleaders, rooting us on the way and keeping everyone in high spirits. As we neared Santa Cruz, there were more folks on the route cheering. One group offered chocolate-covered strawberries and had signs that read "Santa Cruz Loves AIDS Riders." Coming into town, I remember the smell of pizza and realizing how hungry I was, and also how close to camp. I rolled in at 5pm feeling great amid the cheers of riders who had already finished.
Getting into camp, you naturally fall into a routine. Park your bike, find the gear truck, pick up your bag and tent, head to your spot, set up your tent, head

to the showers, eat, pick up an ice pack at sports med, listen to the announcements and go to bed. This first night, Elayna had arrived before me and had already set up our tent. On our way to the showers, we were interviewed by the video crew, though we were both sweaty and less than

coherent at the time. There was a line for the showers, but by then I had begun to accept that there would be a line for everything. The crew had thoughtfully set out little pieces of Astroturf and plastic lawn chairs for us to relax in as we waited. The showers were semi trucks with individual shower stalls. A hot shower at the end of a long day was heaven. We arrived at the dinner tent at 7:30pm, just in time for the announcements. Jeff told us about the next days' route and weather, gave a medical update, and delivered an abysmal Top Ten list. They had a swing band play after that, but I decided sleep might be a better idea. I was in bed by 9pm, and set the alarm for a 5am wakeup. The first day on the ride was a success, but six more days remained.
Journal: Main - Day 1 - Day 2 - Day 3 - Day 4 - Day 5 - Day 6 - Day 7 || CAR8 Photos