Angela's CAR8 Journal
Journal: Main - Day 1 - Day 2 - Day 3 - Day 4 - Day 5 - Day 6 - Day 7

route sheet
(I ran out of film on the last day so Elayna took pictures for me but I never got copies made. Ah, the pre-digital days.)
Last day of the ride and downhill all the way. Well, not exactly, but it sure felt like it. It was overcast in morning and the mood was little somber. Leaving camp for the last time was bittersweet as we dropped of our gear for the last time. Elayna and I decided to ride together and hit the road at 7am. Much the ride was along Highway One and the ocean was always in sight. I was thankful for the cool weather, even though the gray skies robbed us of spectacular coastal views. Some people complained that there was no sun, but I thought they were insane. I had enough sun the past six days to last a while.
The route was easy compared to the previous days and we made good time. At one point I stopped to help a rider with a twisted

chain. I know little about chains but had a chain tool, and another rider used it to fix the bike. The rider was very appreciative, since he didn't want to SAG on the

last day. It felt good to help out. As we rode along, all the drag queens and cheerleaders who had followed us during the week were out in their best to cheer us home. Just like every day, there was a sign warning us that Mama was ahead - a drag queen in a gray wig and housedress

that shouted "Mama's proud of you, honey!" There was an odd group with a scantily-clad leather boy and a bouffanted bathing beauty. The closer we got to the end, the more supporters there were.
I could feel the end was near and was riding pretty fast. Before I knew it, we were in Malibu, halfway there. We passed a sign that said "Lunch Pit, One Mile" then noticed an upscale shopping mall with a cafe. We had plenty of, so we skipped the same old sandwiches and went to the cafe for burgers and fries. Sitting in a real restaurant, even in grungy bike clothes, felt like a return to reality. As we left the restaurant, I wondered if we would spot any celebrities in Malibu. Just then MacGyver walked by us and into the cafe with his little girl - our brush with greatness.

Ten miles past Malibu we road along a bike path and at one point had to pick up our bikes and walk them down a set of stairs to a tunnel under the road. The sounds of cheers and hollers echoing in the tunnel was like a last hurrah, the final shared moment before rejoining friends and family at Closing Ceremonies. The route turned inland past huge homes and tree-lined streets. We stopped at the last pit of the ride, but I was too excited to stay long. I just touched up my glitter nail polish and we went back out to finish the last 13 miles.
L.A. has a lot of beautiful areas and a lot of really crappy areas, and we finished the ride in the worst of the latter. I have mixed feeling about the end of the ride, which took us through South Central L.A. The streets were uneven and full of debris. I was hoarse from yelling out hazards - pot holes, glass, rough surfaces, large cracks, more potholes. The traffic was miserable. I was almost hit twice in the last 5 miles. We were all tired from our journey and it was difficult to concentrate on all the cars and road hazards. I had expected to finish the ride feeling elated, and instead I felt beat up. The neighborhoods were scary, but that's the part I have mixed feelings about. Of all the towns we passed through, the people who lived in this area was most at risk for AIDS. These were the people who most needed services, the children who most needed education. I'm still torn: I know that I the people in those neighborhoods are the ones who had the most to gain from our riding, but I hated ended the ride in such a horrible frame of mind. It was a hollow end to a incredible week.
As we rode into the holding area, Elayna was rider 1500 and I was 1501 to finish. We arrived at 3pm, my earliest finish. All riders had to be in by 4pm to so we could regroup for the Victory Ride to Closing Ceremonies at 5pm. The holding areas had ice cream,

Jamba juice, photo booths, and the longest lines I'd seen on the ride. I'd had enough of lines, so I sat in the shade and waited for ride out. We were all given bright red T-shirts and the riders streamed out it looked like a sea of red, a moving monument to all that we had accomplished. I started feeling better about the ride, and a little sad that it was ending.

We rode to grassy area in front of the L.A. Coliseum for the ceremony. I looked for my mom and sister, who carried a red umbrella. Unfortunately, the riders came in from two sides, and they were on the opposite side. The ceremony was nice, but not as moving as

Opening Ceremonies had been. Once again, the riderless bike was taken to the stage in memory of those who could not ride and were no longer with us. Pat Christen from the SF AIDS Foundation gave a touching recap of our ride, but organizer Dan Palotta's final words seemed forced and empty. When the ceremony ended we met my mom and sister in the greeting area. Lilly brought me a huge magenta flower lei and a lei made of candy. It was so happy to see my family and babbled on and on about all that had happened on the ride.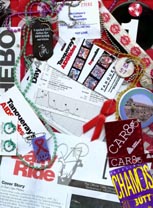 After picking up our gear for the last time and dropping off our bikes to be shipped back to San Francisco, we were faced with another line - the taxi line. After a very long wait, we made our way to the Embassy Suites at LAX. What a relief to be in a nice hotel and rest on a soft bed. A real shower never felt so good. We had a steak dinner near the waterfall in the hotel atrium, and drank Tanqueray and tonic in honor of the ride's sponsor. The next morning I felt wonderful, and we were back in San Jose by noon.
Now that the ride is over, I miss camaraderie and the community of kindness that I experienced. Every rider is asked to bring the spirit of that community into their lives and show that same kindness to everyone around them. I know I'll be out there next year, riding over the hills, in the heat, making a difference not only to those with AIDS, but to myself.
. . . . . . .
Day 7 Menu
Breakfast: Scrambled eggs w/red peppers, hash browns, sausage links, oatmeal, Danish, banana.
Lunch: Turkey or veggie wrap, pasta salad. (But I recommend burgers and fries in Malibu.)
Journal: Main - Day 1 - Day 2 - Day 3 - Day 4 - Day 5 - Day 6 - Day 7 || CAR8 Photos