Angela's CAR8 Journal
Journal: Main - Day 1 - Day 2 -Day 3 - Day 4 - Day 5 - Day 6 - Day 7

When I woke up at 5am, I was surprised at how soundly I had slept in the tent city. I hadn't heard any of the notorious snoring or slamming of port-o-potty doors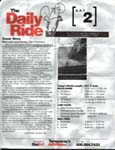 that I had been warned about. Still, it was hard to get moving. I stumbled to the food tent to find (surprise!) a long line for breakfast. But the food was good: French toast and scrambled eggs, along with the oatmeal that really got me through each morning. I was thankful not to be a coffee drinker - the line for Peet's coffee was twice that of the breakfast line. Each morning the crew produced The Daily Ride, a newsletter with information about the day ahead and a profile of one of the riders.
The morning routine took longer than I expecte d

. After breakfast I had to brush my teeth, put in my contacts, change into my biking clothes, pack up my gear, fold up the tent, drop both off at the trucks, fill my water bottles then finally get my bike and head out. The course opened at 6:30am each morning, and despite all the things I had to get done, I managed to get on the road by 7am.
Getting out of Santa Cruz was almost as slow and crowded as leaving San Francisco. Riders eager to bypass the cluster passed in groups, leaving little room to avoid road hazards. Less than four miles from camp I was passed by seven riders in a row and ran over some glass, getting my first flat of the ride. A very kind Pos Ped named Paul stopped to help me change the flat, and we were done in less then 10 minutes. He offered to throw the flat tube away so I wouldn't have to carry the extra weight. Without thinking, I said yes, forgetting I was only carrying one spare and had planned to patch the extra tube if I needed to. At the time, though, I was grateful for the help.
Though we made slow progress getting out of Santa Cruz, it was nice to have so many groups of people cheering us along. I stopped at The Bicycle Trip, a local shop that had opened early to

offer powerbars and Gatorade. As I passed a coffee shop, I was very happy to see Kathleen, one of my first sponsors. The simple feeling of being supported and seeing a familiar face, even so early in the ride, me feel proud and strong. I still had my sister's rose pinned to my cambelback again, and many riders complimented it and asked who had given me the pretty rose. I was proud to say it was from my sister, and felt like a part of her was with me as I rode.

At Pit One I ran into my friends Jacquie, Jennifer and Larry. The pit was on the ocean, and you could hear the waves breaking onto the beach below. Every pit stop had oranges, bananas, goldfish crackers, peanut butter Ritz Bits, Chips Ahoy and a variety of Clif bars, but this was pit stop where I dis covered Peanut Butter and Jelly Wafers. They were nothing special, just peanut butter and jelly between two graham crackers, looking much like a ice cream sandwich. But they were the perfect food for riding, and soon I craved them at every pit stop. Later in the ride I was at a pit that ran out, and when a crew member opened another box, riders actually cheered.

As we rode out through the farmlands, the fog was so thick I didn't even realize I was at Moss Landing. The tall the PG&E smokestacks, usually visible from Santa Cruz, were complete shrouded. As we headed south, the fog burned off and it was sunny again, and the smell of strawberries or green onions or cilantro came at us from the fields we passed. Just before lunch we stopped at Pezzini's artichoke farm for fresh steamed artichokes. The parking lot was crowded with bicycles. I thought those who rode passed were crazy. It was moments like these, stopping to soak up the surroundings, that were the highlight of the ride.

At lunch we caught up with Stephanie and Jackie, sisters we had met on the Russian River training ride. Jackie had taken a bad fall and broken her collarbone on that ride, but less than a month later she was here riding. The dull headache that I had started feeling suddenly seemed insignificant. The lunch stop was a park in Salinas, and as we left I saw the Chicken Lady for the first time. She is actually

a he, a drag queen who usually rides in outrageous outfits, but this year was along to cheer us on. Also cheering us on were schoolchildren, who lined along the gates of their schools and waved, or lined the sidewalks holding out there hands for a high-five. One regret I have is not stopping to talk to the schoolkids I passed. The support we received in the small towns we passed was touching, especially since it was not friends and family but strangers who clapped and waved and wished us well.
After lunch, we went briefly onto Highway 68, which had a narrow shoulder and fast-moving cars. At one point cars were passing so closely I had no choice but to roll through the gravel on the shoulder and got another flat tire. And since I had carelessly thrown away my spare, I had to ask a fellow rider for help. Laurie, a rider from San Francisco, generously lent me a tube. My tire is very difficult to remove and we struggled for a while to get it off the rim. The offending piece of gravel was wedged so deeply into my tire that it took a few tries to poke it out. We struggled to put the tire back on and the tube seemed to be the wrong size. I was hot and tired and impatient, which did not help. After 20 minutes of struggling, a woman on motorcycle crew stopped and popped the tire right in. I was grateful for the help but dismayed to be set back 30 minutes and felt foolish at not having a second spare with me.
By then my friends were far ahead of me and so I rode the rest of the day alone. I noticed how different it was from riding with a group, and how much I enjoyed it. I had not expected to like riding solo, having envisioned a sense of camaraderie on the ride. I began to question what I wanted to get out of the ride - a sense of community or a sense of self. I see know that it was a mix of both.
By afternoon the wind kicked up and it got very hot. Luckily we had an amazing tailwind, so I pedaled easily and still went 25 mph on the flats. I reached my top speed on a downhill before Soledad, 37 mph. Unfortunately, the slightest turn of the road meant brutal crosswinds, and the dust and heat combined to make the last 30 miles of the route very difficult. As I passed (or was passed by) riders, I had fun complimenting them on decorations, like the two guys with disco balls atop their helmets, members of "Slow-Funkin' Love Astronauts" team.


This was the longest day of the ride at 102 miles, and by the end I was weary. When I arrived at Pit 3 at the Soledad Mission, the wind was brutal. To manage the crowded pit, the crew had us wait before entering, and the frustration level was apparent as riders grumbled. I took a few pictures but didn't go into the mission, another regret. I should have taken a few minutes to explore but just wanted to get the day over with. The heat was made more bearable by the boys at the illegal water stop. The chalk writing on the ground read "Cool H20, Hot Guys." And there they

were wearing speedos and squirting down passersby with supersoakers, which cooled us down and made us smile. I filled up my water bottles and rode on. I stopped briefly at Pit 4, which had a Village People-esque construction theme, but I was anxious to ride the final 17 miles and get to camp.

The route ended with rolling hills, and the road crew was out to warn us of steep downhills and tricky turns. D espite the heat and the long day, I felt good. I rode behind a Spokesbuster, a person committed to riding all the AIDS rides in a year - and raising all the money. This man had a video camera attached to his handlebars to document the ride. He was riding for his 3 year old godson who is HIV+.
I ended the day in King City at 6:30pm feeling very tired by still cycling strong. I was so hungry that I made my way directly to the dinner tent and ended up sitting with a pseudo-celeb, Jamie from the New Orleans Real World. Elayna had spotted him on Day Zero, the administrative day before the ride. We talking about creative fundraising techniques. He had thrown a party and charged donations for drinks, each drink having its own "price," and raised everything in one night. Another rider at the table sported bright blue hair - he had agreed to dye his hair and let people vote with their dollars to see what the color would be. Blue just edged out bleach blonde.

Tonight's entertainment was a Latin jazz band, but I was too wiped out to consider dancing. Making my way to my tent at the end of the evening, I admired some of the very elaborate tent decorations. Flashing lights, flags, signs, and even a white picket fence and lawn ornaments. By the time I went to sleep it was 9:30pm. It would be another 5am wakeup the next morning as I ventured into unknown territory, a third day of intense riding.
. . . . . . .
Day 2 Menu
Breakfast: French toast, scrambled eggs w/cheese, ham, oatmeal, bagel, peaches.
Lunch: Smokey turkey, or black bean burrito, fresh veggies w/ranch.
Dinner: Spaghetti w/meat or meatless sauce, green beans, garlic bread, tossed green salad, cheesecake.
Journal: Main - Day 1 - Day 2 - Day 3 - Day 4 - Day 5 - Day 6 - Day 7 || CAR8 Photos