Angela's CAR8 Journal
Journal: Main - Day 1 - Day 2 - Day 3 - Day 4 - Day 5 - Day 6 - Day 7
Today's route included the Quadbuster, the first named hill - a climb of 800 feet in just over half a mile. But after

Highway 92, I wasn't intimidated by hills. What worried me was the heat. Day 3 is the traditionally the hottest day of the ride, and today was no exception. I wheeled my bag to the gear trucks to find a luau in progress. The gear crew were dressed in their hula best, quite an eye-opener for us weary riders. When I left camp at 7am, it was already warm. At bike parking, I ran into Jacquie and Jennifer, who were in the rack ahead of me. We rode out together along with Jackie and Stephanie.
There was a small hill

at mile 13, dubbed "Warm up Hill." Ordinarily it would have been easy, but in the heat it left me panting. After the short climb, I started feeling the twinge of a migraine starting. I popped the first in a long line of pain relievers, which held the headache at bay. At every pit I soaked my bandana in ice, and I also had a spare water bottle which I used to keep my bandana wet as I rode. It made a difference as the day got hotter and hotter.
At mile 18 the Quadbuster loomed. I actually had a lot of fun on the climb, going my own pace and joining the

surrounding riders in a chorus of "The Jeffersons" - movin' on up - as we summited. At the top scores of riders shouted encouragement and praise, which meant so much coming from those who had just done the same. Some riders walked, but others slowly struggled the whole way. Stronger riders who had climbed with ease came down to ride up again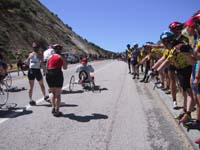 with those who needed the inspiration. Some climbed five, six, seven times to talk others up the hill. And of course there were the drag queens like Ginger, with her amazing bicpes, who was at the top of a hill every day in a knock-out gown, cheering us on. But most inspiring was Dave, a rider with no legs who rode the entire route using his arms to turn a hand crank.
From Quadbuster until lunch, the ride was a blur. I remember little except being hot. The lunch stop was in a town called Bradley, which loves the AIDS Ride. The

elementary school's largest source of fundraising is selling food and mementos to riders who pass through. These kids

were cute and knew how to move merchandise. I was feeling to hot and unsettled to have a hot dog or nachos, so one little boy offered me a souvenir button for the bargain price of $2. Bradley has few trees, and people used any shade they could find, eating their lunch under the semi trucks parked behind the lunch tent. We ended up finding a shady driveway, where 20 of us crowded to enjoy lunch. Luckily the man who lived there didn't mind and even wished us well. Stephanie was one of the only riders to carry a blanket with her as she rode, so we didn't have to sit on the ground.
As I left the lunch pit, a rider passed out from heat exhaustion and a group of riders lifted her to the medical tent. A sobering reminder to stay hydrated and keep that bandana cool.
The day got longer and longer. I was moving slowly in the heat and my friends were far ahead of me. I developed a painful pinch in my right shoulder blade, which was aggravated every time I leaned over to change gears. Just before Pit 4, there was a family selling sno-cones for 50 cents in front of their house. The money was for their

youngest daughter's bicycle fund. I had a watermelon sno-cone and encouraged other riders to do the same. I was making lousy time and considered skipping the last pit

stop. I'm so glad I didn't - it was my favorite pit of the ride. It was on the grounds of the San Miguel mission, and theme was "Once a bride, always a bride." The spirited crew fellas were dressed to the nines in bridesmaid dresses, high heels and floral bouquets. They had a wedding arch set up in the courtyard where you could pose with the bridal party. They served wedding cake, and the bride served ice.
The mission grounds were beautiful and, mercifully, very shady. I saw the girls under a tree and

sat with them for a while watching riders take turns soaking their heads under a water house. We went into the mission church, which was incredibly calming. It was cool and quite inside, a wonderful change of pace from the day's ride. The frescos on the wall were beautiful. San Miguel is one of the best preserved missions. The building and the frescos date back to 1797. The roof is the only part that isn't original.
Leaving the mission was hard - only 10 miles to go but it was still so hot. Turning back onto the route, a rider stood by a set of railroad tracks and warned us to walk out bikes across the tracks, which sat in wide, deep ruts. I was shocked that there was no road crew stationed there, not even a sign of warning. I was grateful for the rider who was probably just as anxious as the rest of us to get to camp but stopped to help his fellow riders cross safely.

The wind had come up slightly so the last miles were a bit cooler, but I was very tired. We went through rolling, winding hills past vineyards. Then suddenly I heard the sound of cheers in the wind. I knew I was close. I rode into the fairgrounds on a street lined with people cheering. I really felt that I had earned those cheers that day.
After picking up my gear and setting up my tent, I went straight to the massage tent to sign up for an appointment the next day. As with all things in camp, there was a line. I ran into my friend Manuel, who had ridden with me on a training ride from the Lexington

reservoir to Soquel. He and his partner Isaac led some of my favorite training rides. As we chatted, he reached into his pocket and handed me a Saint Michael's medal

he had bought at the mission. He said it was for all his friends who were riding for him. I hadn't realized until then that he was HIV+. I was extremely touched by his gratitude and all the weariness of the day was replaced by a sense of pride. I felt great for pushing myself to do this ride, and the smiling face of Manuel, strong and riding despite his illness, was a perfect reminder of the good I was doing. (Here I am with Manuel eariler in the day.)
That evening during dinner and announcements, I met a rider named Stephen who was a crew captain for the Alaska ride, which I'm also crewing this August. He had ridden and crewed many events and gave me great advice. He was quite an animated character, and reminded be quite a bit of Geoffrey Rush's character in Shine. That night's entertainment was The Wizard of Oz, and Stephen said his great-uncle was Bert Lahr, the cowardly lion. He also said that "Bulldog" from Frazier and bicycle maker Gary Fisher were riding. He was definitely the guy in the know.
When announcements were over, we learned that day was the 20th anniversary of the first reported case of AIDS. They showed a very moving slide show chronicling the coverage of AIDS over the year, from the first reports of "gay cancer" to the cover story on Time, Ryan White and AZT, the pandemic in Africa and the final question - will it be another 20 years before we see the end of this disease?

At dinner they handed out beaded red ribbons that were handmade by women in South Africa who had lost children and grandchildren to AIDS, or had the disease themselves. The second beautiful keepsake I received that day, not from a friend but from a stranger who had lost loved ones but not hope.
I watched a little of The Wizard of Oz but was so tired after the long day that I couldn't stay up long. I didn't get to bed until 9:45pm, but slept like a rock all night.
. . . . . . .
Day 3 Menu
Breakfast: Apple-filled pancake rolls, scrambled eggs, bacon, oatmeal, bagel, pears.
Lunch: Boneless chicken breast on roll or veggie bun, pasta salad.
Dinner: Soft beef taco, soft TVP taco, refried beans, Mexican corn, tortilla chips, apple pie.
Journal: Main - Day 1 - Day 2 - Day 3 - Day 4 - Day 5 - Day 6 - Day 7 || CAR8 Photos